I'm a baseboard-cleaning, hands-and-knees-scrubbing kind of gal, but that doesn't mean I don't accumulate dozens of hardly used spices and mentally suffer when I look under the sink at my disarrayed makeup/hair product/nail polish catch-all. Having a clean house is totally different than having a neat house – but I'm determined to have both. For optimal organization, check out these ideas and products that are sure to elevate your spring cleaning game.
1. Feeling Spicy
Pretty much everything has an expiration date, including spices. And it's harder to go through them if you keep buying cinnamon every time you decide to bake snickerdoodles. While spices don't "go bad" per se, they do lose their potency and won't flavor foods as well. Baking agents can also lose their leveling/rising effects. If you've had it for more than 4 years, toss it. Otherwise, invest in a Sagler lazy susan that can be installed in your cupboard so everything can be easily viewed and accessed.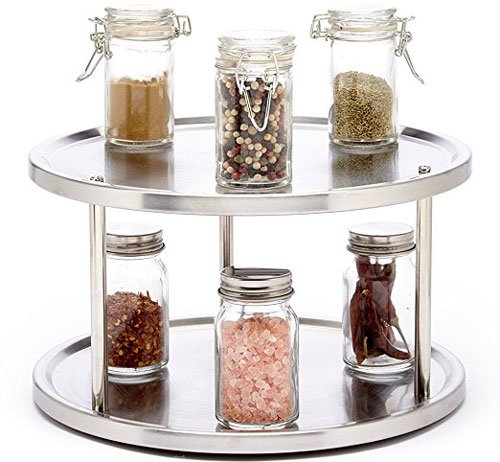 2. Beautiful Storage
Makeup bags are great for your everyday essentials, but if you like having multiple blushes, bronzers, shadows and lipsticks, it's better to get an actual organizing display case. This bestseller, Ikee Design, comes in different colors and designs, and makes finding your favorite lipstick so much easier.